MOTOTRBO™ R7 SERIES
MOTOTRBO™ R7 SERIES
The newly launched Motorbo R7, is a digital two-way radio that can be used in work environments that require a rugged design that can withstand dust, spills, drops and the wear-and-tear of everyday use.
In addition, this radio is packed with advanced audio features to provide loud, sharp, clear speech voice communications, in addition to noise cancellation, automatic feedback suppression and automatic volume adjustment based on background noise.
The Motorola R7 Series can be programmed and updated over the air via WiFi to reduce downtime and is powered by a battery that lasts up to 28 hours.
In addition, the radio can be connected to various sensors over DMR and Bluetooth as well as it can be integrated with video security and access control systems.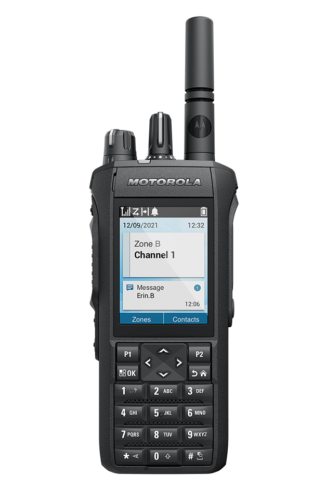 What Our Customers Say...

We appreciate all the help from Business Comms team! They truly went beyond usual customer service to help us and even allowed us to test out different Radios – DP4400 and SL4000 without pressure.
Operations Manager at 4* Hotel (London)

We have used Business Comms' Motorola two-way radios for over 10 years and their support has never faulted. We would recommend them to anyone without hesitation.
Quantity Surveyor at Large Logistics Company

We used Business Comms to install our new office phone system. As a small company, price was very important to us and Business Comms gave us a competitive quote. They made the whole process smooth and painless. Roma was great at advising us on the best system to suit our needs and talking us through the processes. The engineers who came to site were friendly, patient and very helpful. I would happily recommend Business Comms and will definitely call them for any of our future telecoms needs.
Phone System for Riverstone Pictures Ltd
Contact Us
Our team is happy to help with any Two-Way Radio enquiries. Contact us using the form or by phone and we will get back to you as soon as possible.