Working with the client Costain, we designed and installed a Cat5e network consisting of circa 250 networks sockets all terminated back to 42U comms racks in the main comm room. The remote buildings were connected via 450M, 350M and 150M fibre link connections routed via underground ducts and fencing and all terminated back to the main comms rooms and local satellite cabinets were Cat5e cables were provided locally to the remote buildings to ensure a single LAN was achieved throughout the site.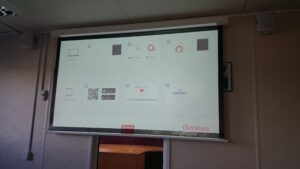 Meeting Room facilities were supported with commercial grade 4K monitors in 55'' and 65'' sizes with Barco Clickshare for wireless presentation from mobile devices such as Laptop and Tablet.
We had previously supplied an Epsom Project or and Electric Screen to a previous site which we recovered and reinstalled with a ceiling mounted bracket and connected to a Barco Clickshare for wires presentation.
Costain requested a Touchscreen presentation facility with access to the LAN, so a SMART 85'' PRO interactive display was provided on a mobile stand within their Production Room.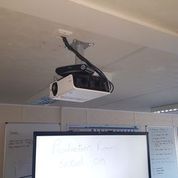 Brightsign digital signage solutions were installed to support screens in communal areas such as Reception for looping relevant project data, news channels or used as welcome signage to arriving guests.
All room are supported with our annual Premier Plus Support service offering remote support via a manned help desk Mon-Fri, 08.00-18.00.
Using the Gamma Horizon hosted telephony solution, we provided Polycom IP phones with DDI numbers and registered these as part of the same network. User licenses are charged monthly on a rolling 30-day agreement and calls up to 2000 minutes per month per user to UK 01, 02, 03 and 07 numbers are included in the monthly charge. It was important this was a flexible agreement for these temporary site offices. Calls are delivered via the LAN and the existing data connection.